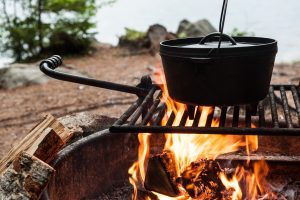 Do you know your bluegills from your bass? How about which end of your kayak is the stern and which is the bow? The Black Hills offer a plethora of possibilities to enjoy the outdoors. But, taking the time to learn a skill or two can open up a whole new world of adventures. The South Dakota's Department of Game, Fish, and Park is your guide to learning the skills you need to enjoy the Black Hills on a deeper level. The South Dakota GFP is committed to preserving and sharing the world-class outdoor experiences of South Dakota.
In western South Dakota, the GFP is headquartered at the Outdoor Campus West. In addition to being the base of operations for outdoor conservation in western South Dakota, the Outdoor Campus, located in Rapid City, offers free outdoor training and fun to individuals and families. Check out some of their free classes:
Learn to Hunt. This class takes a novice hunter through it all—how to get the proper hunting permit, how to find land to hunt on, how to handle hunting equipment, how to ethically track and harvest an animal, and how to process an animal for cooking.
Shooting sports. Gain shooting skills with a rifle or a bow. How to use a scope, clean and care for your firearm, and how to take an ethical shot at an animal while hunting.
Learn to fish. There's a whole world just under the surface of South Dakota's lakes and streams. Learn to experience that world in a richer way by learning how to fish. These classes build on each other to bring you from fishing basics to bringing home dinner.
Outdoor skills. Everything you need to know on how to traverse and survive in the wilderness of the Black Hills. Learn how to negotiate bodies of water, build a fire, find food, and more.
Learn to trap. This increasingly rare skill can be a fulfilling and rewarding activity. To trap a specific species of animal, a trapper needs to know their baits, lures, and traps.
Teacher academy. Taking the dive and taking any of these courses from the GFP could be the start of a life-long love of an outdoor sport. Now that you've mastered hunting or fishing, pass on what you learned by getting certified as a HuntSAFE instructor or FishSD instructor.
Finally, put your new outdoor skills to use and check out the SDGFP one-stop-shop for all things camping. The Black Hills has a camping experience for everyone. Whether you're looking for a cabin with a cozy bunk bed for the kids or you're looking to truly rough it, the Black Hills has what you're looking for. Make a camping reservation, pay your fees, and get the latest scoop on campfire regulations on this site. Then, demonstrate your new kayaking or fishing abilities or wow your family by whipping up dinner over a campfire—all thanks to the GFP's free outdoor skills classes.