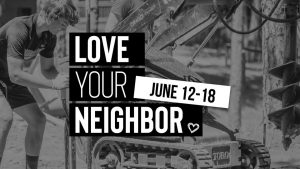 JUN 12 AT 8 AM – JUN 18 AT 6 PM
Love Your Neighbor 2022
Rapid City
Fountain Springs
Our mission trip to our own community! From June 12-18, join us to make a hands-on difference right here in Rapid City, the Black Hills, and even across the world!
Love Your Neighbor week is a chance for you to connect with others, impact our region and connect with local partners and non-profits.
Decide WHEN you want to serve and WHAT TYPE OF WORK, then sign-up for that time.
Projects are organized by time of day:
AM @ 9am-12pm or 2pm, depending on site!
PM @ 6pm-9pm
Projects are organized by type of work:
Kid-Friendly (for families with children 12 and Under)
Light/Medium (Landscaping, Painting, Organizing, Admin, etc., often 12+)
Heavy (Home Repairs, Construction, Larger Projects)
On Your Own (Connect with projects that can be done when you are available)!